Golden Triangle Chapter (#173)
Upcoming Events
QCWA Lunch
Olive Garden Restaurant
Leesburg 11:30 AM, 3rd Sat.
(After the monthly LARA Business Meeting at the Club House)
QCWA Net
Chapter 173
7:30 PM Tuesday
147.000 + PL 103.5 or
Echolink
Sumter QCWA Net
Chapter 217
10:00 AM Friday
443.150 + PL 103.5 or
Echolink at K4LFK-R
HF QCWA Net
4:00 PM Sunday
14.347 MHz
The 11-day cruise, aboard the MS Koningsdam (Holland America Line), sailed on October 18 from Fort Lauderdale with stops at Saint Marten, Guadeloupe, Barbados, Martinique, St. Kitts/Nevis, the US Virgin Islands, and the Bahamas. Amateur radio was used aboard the ship.
LARA Members Receive Awards At Local QCWA Meeting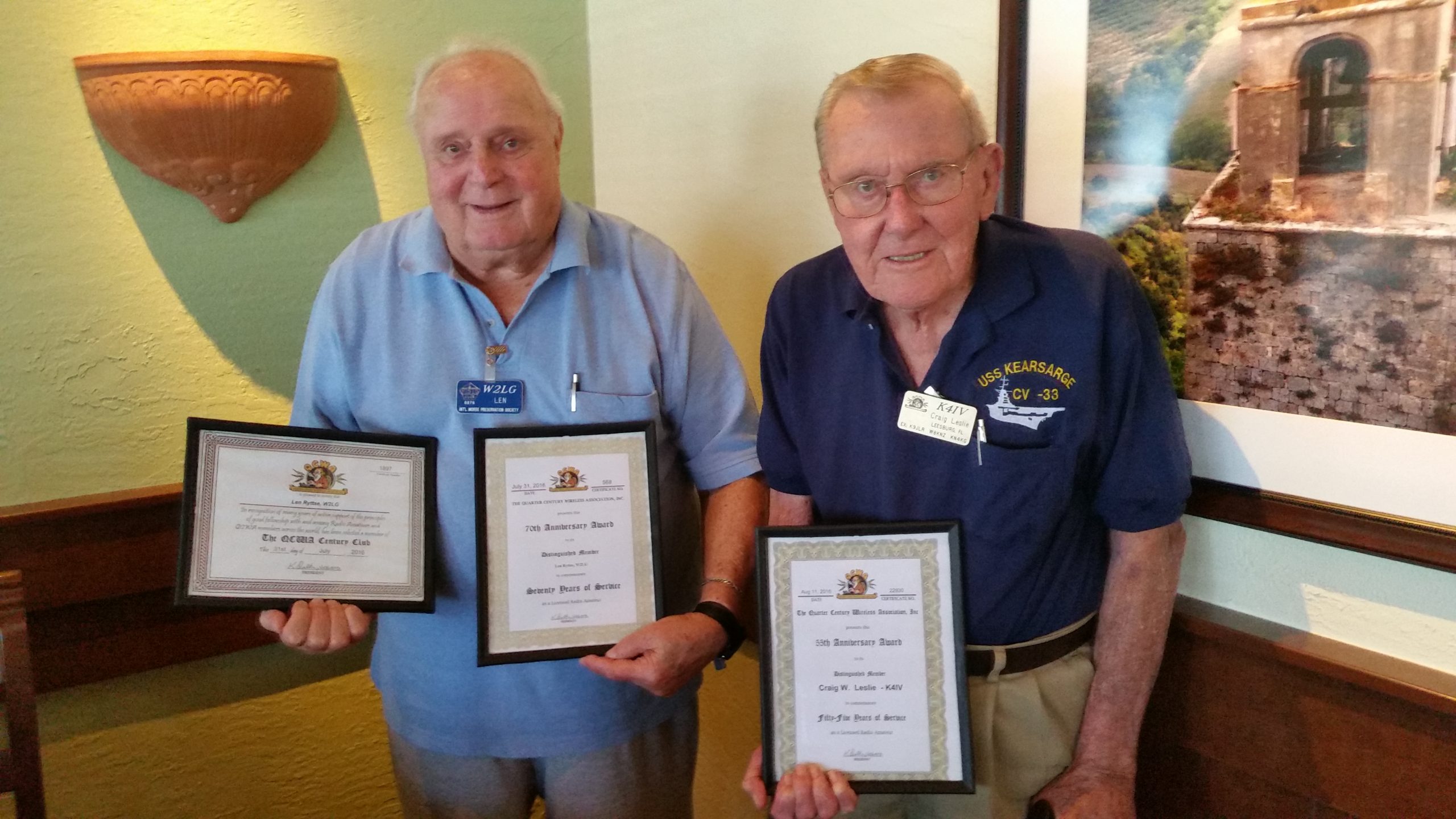 On Saturday, 8/20/16, Len Ryttse, W2LG, on the left, received the both QCWA Century Club and 70th Anniversary awards.On the right, Craig Leslie, K4IV, received the QCWA 55th Anniversary award. The Century Club Award is issued to QCWA members whose age when added to their number of years as a QCWA member adds to 100 or more. The 55th and 70th Anniversary awards celebrate the anniversary of continuously maintaining their FCC license. The awards start at 50 years and are issued in five year increments with special award for 75 years or more. The Quarter Century Wireless Association, Inc. (QCWA) is an organization of licensed amateur radio operators who were first licensed at least 25 years ago. It is not required that licensing have been continuous during that period. The organization was started in 1947, and had 54 charter members at the end of that year. Its headquarters is in Framingham, Massachusetts. There are dozens of chapters throughout the United States, several in Canada, and one each in Germany and Switzerland. The association has a Memorials program for deceased members, and a scholarship program for worthy recipients.